Well, today, I have a great surprise for you! Betcha you thought I'd forget the Chic Tip of the Week, with my adventures for the Pinterest Challenge. Well, ha! I fooled you. Today, I have a very special guest who is just like me. Yep. My new blogger friend Ashley agreed to write a tip for us this week! She's a great DIY-er and so inspirational and is always trying to save as much money as possible. (Which is what we all are trying to do, right?!) Here's how she has done it!!
(PS If you haven't entered my
Giveaway
, go here!)
Hello, fellow Living on the Chic readers!!
I was super excited to get an email the other day from Trissta asking me to write up a little Chic Tip of the week!
So I sat and thought about what I would write about....
what would be a Chic Tip that really embodies who I am and my current lifestyle. Cause lets face it Living on the Chic readers, if you are anything like me you have champagne taste on a beer can....well I'm not really a beer drinker, so lets say tap water budget!
I am lucky to actually like to tackle DIY projects, like my recent
Glam Lamp Redo
and
DIY Sofa Table
, but what about the other things that you really can't DIY.....like a sofa or more importantly shoes....yes shoes!!
I am a girl who can not live without her shoes!!
Yes, I am serious!
Maybe that's why I like DIY-ing so much, it allows me to spend more on the things I can't DIY!!
OK... so what's all this have to do about my Chic Living tip?! Well, my Tip for Living on the Chic is not very glamorous sounding, nor is it a tip about DIY-ing something....rather it is something as simple as.....


Now wait just a minute, before you say...."yes, yes, we all know patience is a good thing to have!", let me explain why something so simple can help you live a Chic life!


You see I believe this little Chic living tip impacts not only home decor, but every other aspect of living chicly like your wardrobe ....
You see here's one thing I know about myself, I AM AN IMPULSE buyer!
I tend to fall in love with things in the moment, I tend to buy because it's a good price, I buy tend to buy because it's the new thing to have.....or at least I use to!
By using this one little tip, by really trying it, I've found out a lot about myself....not only the things listed above, but also that I hate having stuff I don't LOVE! Do you know how many bags of clothes I didn't LOVE have been dropped off at Goodwill in the last year?! Were talking lots! I mean why should I wear something that does not make me feel absolutely good about myself!? And I'm not talking about just clothes, but home decor items I bought because I thought I NEEDED them, or because it was just something you bought when you got your first place! Well if I had just waited I may not have wasted my time and money on them!

So that's why patience is my Chic Living Tip!
Patience can keep you from buying what you don't truly love.
Patience can give you the time to see if you truly do love it!
Patience can help you score a really good deal!


Let me just share with you all some of my recent purchases were I think this little tip came in handy....


When Josh and I moved in to are current apartment we were gifted a sofa and loveseat
set. Now first off, don't get me started on the un-chicness of a matching living room set, but the color was an awful shade of what I like to call country blue! yuck!
Now we looked for quite a while, and found several sofas that could have worked, that were certainly better than the ones we had ( in terms of looks, the sofa set had barely been used and so was in pretty good condition ) but something, at least for me just didn't cut it.
So we waited...and waited...and waited...three years!
Yup! talk about patience! I really hated the color of the other sofa!
While most people with this much dislike for something may have just gone out and purchased one of the so so sofas, we decided to wait. Until I found one that was exactly what I wanted,
and bonus for some reason it was on sale an extra $50 off!
So I am now IN LOVE with my lovely sofa, and it was exactly what I had wanted.....so glad I waited!!
Something else I scored recently was this lovely rug from West Elm
If you have ever shopped here, you know that their rugs NEVER go on sale! I'm serious never!! I can't tell you how many times I almost bought this telling myself...well it's not like it's ever going to go on sale, but something in me told me to hold on, just wait, just maybe it'll go on sale. Well just last month it did!
Yay!
Score two for me!
Another benefit of waiting is finding out if you truly love something!
How many times have you bought something on the spot and only wore it once or twice, or maybe you never really liked that home decor item once you brought it home.
Well, if you can just wait a little while, you will know if you truly love the item, or if it was just a passing want!
I also recently scored this gorgeous Kate Spade bracelet which was originally $178, for the lovely little price of $28! Whew glad I waited on that one!
Last year I also scored these Tory Burch boots at her private sale,
they were in several magazines at the time. But I again waited and scored them for around a sixth of the price!
And this my fellow Living on the Chic readers is the last and most recent purchase I will share with you....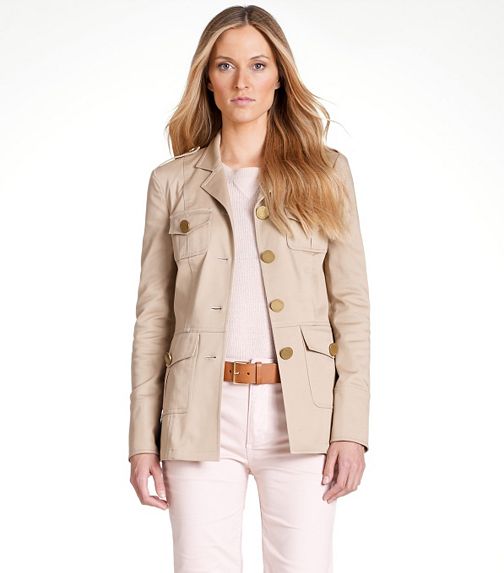 We have a little boutique in my area that sells Tory Burch Clothing, well I don't go in there often but was in there and saw this jacket when I was shopping with a friend. Well, at nearly $400 it was just a bit out of my budget! Really WAY out of my budget, but like I said earlier Champagne taste on a tap water budget! For some reason I just could not get it out of my head so I went back the next week to look at it, just to see if it was all I was building it up in my head to be, well it was!
However, when I went back to look at it, it was marked down for a dot sale.....I scored this for less than $100! Yup! As well as another Tory Burch shirt that I bought for $25!
So there you have it!
Sometimes it really does pay to think about it, wait, make sure you really love it, and then take another look at it. You never know, you may just not really love it enough to care or you may just find a sweet little discount waiting for you the next time you check it out!