Okay, so here's another thing that I will be doing weekly: Gathering all the giveaways from all over the blogosphere to help all my Chicly ladies out! Here's the list of who's doing giveaways this week.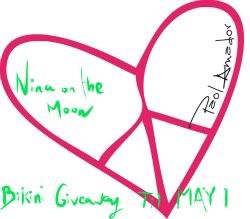 1)
Nina on the Moon
is giving away a gorgeous bikini from Hypster on May 1st. Be sure to enter soon!
2)
Aubrey + Lindsay
are giving away a signed copy of "Get Growing" by Frankie Flowers. Ends April 27th.
3)
Sweet November
is giving away a Punctuation Necklace. Ends.. TODAY April 22nd, so you better hurry over there!
4) Love Stitched is giving away a
Jo Totes camera bag
(Ends TONIGHT) annnnd a
Little Mookie Big Bow purse
(Ends Tomorrow, the 23rd) So, get your buns into action and get entered!
5)
La Mode En Rose
is giving away this cute bow necklace from Yes Jess. Cute!! Ends April 26th.
6) The
DIY Club
is having 8 Giveaways!! Yes, you heard me, 8 of them. And the first one is ending today, so hurry up, ladies!
7)
Meet Virginia Design
is giving away and Apothica Giftcard. Squeallllll! Closes May 2nd.
8)
From the Right Bank
is giving away a Canvas Print from UPrinting.com. Definitely have a few ideas on that one. Ends May 26th.
9)
Ucreate
is giving away a $50 giftcard to Target from VeryJane. Is anyone else freaking out about this one!? OMGOMGOMG. I LOOOOOFFF Target!
10)
Sterling Style
is Giving away a $75 gift card to LuLu's. OMG. They just keep getting better! Open until April 25th.
11)
No Biggie
is giving away an Elmer's Party Pack... if you enter to be part of her Online Craft Party!
12)
First Grade Crush
is giving away a BrainFreeze ice cube set. Seriously, my nephews would die over it. Ends on the 24th.
13)
Selective Potential
is having a Chloe loves Charlie giveaway... Sigh. Everything is SO CUTE! Open until April 26th.
14) The
Country Chic Cottage
is giving away a Peeps Bunny Garland Kit. Although I'm not a fan of real Peeps, I think that I could handle these ones for Easter. :)
15)
Sherbert Blossom
is giving away a HUGE box of Chocolate!! YEEEEE. Just in time for Mamma's Day. <3
16)
Take the Side Street
is giving away some Shaklee. Awesome cleaner, and I want some!!
17) And my FAVORITE
Indie Ogden Utah
is having a bunch of giveaways!! She's celebrating 300 facebook fans, and is giving away a bunch of stuff to local shops and events. Sigh. I wish I may... Ends April 25th.
18) Annnd
Made by Girl
is giving away a pair of Kassapanola Poka Dot Pillow Covers. Sooo Cute!
If you are Facebook... You can find the following giveaways, too!!
MODE Bay Area
is working with
Tart Collections
to giveaway $500 for a shopping spree. Check either page for the requirements.
The Stunning Post
is giving away an overnight stay in the
Acqua Hotel - a Joie de Vivre Hotel
to the first fan to refer 50 likes to their page. Only open until tomorrow!!
Saks Fifth Avenue is giving away a pair of Manolo Blahnik's. Holy momma!
Seychelles and MOR cosmetics are sponsoring sister giveaways on each other's pages! :) Enter both of them!
Anna Kosturova Swim and Resortwear are having a tweetstakes! Make sure you tweet them to enter. :) You might just win one of many!
A Pop of Chic has teamed up with a good blogger friend of mine, A Girl's Tale of Shopping, Saving, and Sequins to give away a pair of gorgeous earrings!
JBrand Jeans are giving away some of their brightly colored jeans for the new season!
True Religion is giving a pair of jeans away, too!
Georgie will be doing a giveaway when they reach 400 fans, so make sure to spread the word!!
ANNNNND Stella and Dot are giving away one of their great Bardot Spiral Bangle in Gold.
Enjoy and GOOD LUCK! :) Let me know if you win! Or if you have a giveaway you'd like to share!
Much love,