Well, it's Friday again... and you know what that means?? It's...
One of the bestest days ever... because I have worked all week to compile the best of the best giveaways-- both on Blogs and through Facebook-- to ensure you that you find the perfect ones for you! So, without further adieu... Here we go!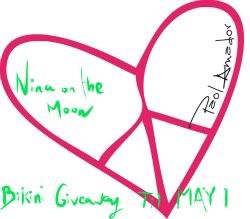 Meet Virginia Design
is giving away a $50 Apothica Gift Card. Love Love LOVE that store. You should check it out! The giveaway is open until May 2nd.
Centsational Girl
has two Shabby Apple dresses up for grabs. Ends May 1st. (Hurry soon!)
I'm Clothed Much
is giving away $100 worth of mineral make up from Fresh Faces. OOOHHH. I love mineral makeup. <3 Ends May 3rd.
Kansas Couture
has a giveaway for $25 gift card to Ruche! YAY! Ends May 3rd.
No Biggie
(This one is for anyone in Utah) Tickets to the Thanksgiving Point Tulip Festival! I've never been, but I bet it's gorgeous!! Get over there by May 1st to enter.
Running on Happiness
is giving away a $25 gift card to Apothica... Can you imagine! Apothica is the happening place!
Say Hello to Jessica
BUSINESS CARDS! Omg. I've been drooling over these for forever and I definitely need them! Jessica is giving 500 away from prinly.com. Open until tomorrow night (4/30) so get over there quick. Or don't... lol. I really want them!
Selective Potential
also has a Ruche giveaway. She's giving away a $40 credit to the winner. Enter by May 3.
Sherbet Blossom
is giving away a box of chocolate... and it's a big one. Enter by April 30th for your chance to win it!
Shopping, Saving, and Sequins
has DOUBLE giveaways going on right now! A Harper's Bazaar subscription (I WANT!) and earring from a Pop of Chic. Winner picked May 1st, so get over there soon!
Style Obsession
is giving away a prize worth $135; An Orient WATCH. Sweet momma. Enter by May 3rd for your chance to get it!
Sweet November
has a giveaway for an Ana Berfort print. Seriously, these things are amazing. Enter by May 1st.
The Daily Blarg
Also has a huge box of chocolate up for grabs!! OMG. Could this get any better?? Ends May 1st, so get there quick to get your chocolate!!
DIY Club
Has new ones up every day! Check them all out for your chance to win big!
DIY Showoff
is giving away 2 $30 credits to the Word Whipped shop. CUTE STUFF! Ends May 2nd.
This Momma Makes Stuff
has a cute book for baby crochet ideas! If you have a baby, you should check it out.
UCreate
has $50 for fabric from SkyeReve! OMGOMGOMG. I want this SOOO bad. Winner is announced May 3.
Lulapalooza
has
TWO
giveaways going on... So, make sure you get over there before they both end!
Love Stitched
has a cutesy sign up for grabs from Cait and Create. Ends May 6th.
Simply Sadie Jane
will be giving away a cute hand made watch from Yellow Umbrella! Ends May 5th.
A Beautiful Mess
has 5 prizes in her giveaway going on right now!! Holy momma. I'm so excited!! I want them all. Sigh. So amazing. END TONIGHT!!!
Flor de Maria
Is giving away a gorgeous purse! Get over there quick!
Aqui
has a triple giveaway going on!! She has OPI nail polish up for grabs!! Also, be sure to check out her blog anyways... She's gorgeous and has SO MANY great ideas! <3
ANNNDDD Facebook giveaways!
Hautelook
is giving away ViX swimwear.
Eastland Shoes
is giving away shoes each week!
MODE Bay Area
has 3 going on right now!
Serefina jewelry,
Pop of Chic
jewelry & $500
TART Collections
gift card
The Contest Closet
has a great page in which she posts a TON of them! Check it out!
If you know of any other giveaways, please comment and let us know!! Or, if you won any from last week, you can brag about it here!!
Much love,